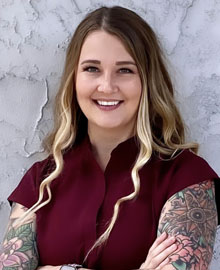 I am a Florida state licensed and nationally board certified primary care acupuncture physician. I received my Master's Degree in Chinese Medicine and Acupuncture from Dragon Rises College of Oriental Medicine in Gainesville, Florida. I also have a Bachelor of Health Sciences Degree from DRCOM. I hold certification for Acupoint Injection Therapy and Clean Needle Technique.
I worked in critical care medicine for nearly 15 years before deciding to go to medical school for Acupuncture. I had always known I wanted to provide more individualized care for my patients but didn't know what that route looked like. Then I experienced not one, but two, deep brain strokes in my early thirties. I was passed from specialist to specialist without receiving any answers as to why it happened or if it would happen again. When Western specialists couldn't help with the sequelae following my strokes, I knew I didn't want to live in fear or be defined by my diagnosis, so I sought out alternative health options. Herbal prescriptions, lifestyle changes, and acupuncture changed my life and helped me feel better than I ever have.
I knew in those moments that I wanted to be able to provide that type of specialized care to every person possible. I am here to offer hope and provide alternative primary care to those who don't feel heard in their quest for optimal health, disease prevention, or during the recovery process. As an alternative primary care physician, I enjoy seeing pediatric to end of life care patients, and have interests in neuromuscular disorders, pain management and men's health. I'm honored to provide individualistic patient care using an Integrative Medicine approach utilizing Eastern and Western Medicine, Ortho Bionomy, herbal prescriptions, and Injection Therapies practices.
When I am not at the clinic, you can find me traveling, cooking, attending concerts and spending time outdoors with my husband, son, and our french bulldog.