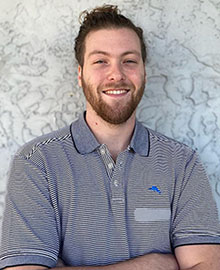 I am a Florida State Licensed and Nationally Board Certified Acupuncturist. I received my Master of Acupuncture and Oriental Medicine from Dragon Rises College of Oriental Medicine in Gainesville, Florida. I also received my Bachelors of Health Sciences from Dragon Rises. I am certified for both Acupuncture Point Injection Therapy (APIT) and Clean Needle Technique. 
Acupuncture has not always been a major aspect of my life. It came to be more prevalent when I was in college and I didn't really know what I wanted to do. While in college, I struggled with my mental health and everything I tried to use would not help me. That's when acupuncture was suggested to me and I became immediately hooked. It wasn't just the acupuncture that helped so much, it was the way the acupuncturist spoke to me and listened. I knew that they had a deep care for my well being and wanted to provide me with tools that I could use in my everyday life. This is when I decided to pursue Acupuncture for my career because I finally felt like I had found my calling and I could truly make a difference.
Now I can say, I am extremely proud to be able to provide one-on-one individualized care for every patient I see.  I look forward to being able to show the true beauty of the medicine while listening to each of your life stories. Everyone's story deserves to be heard and acupuncture provides us that wonderful opportunity.
Our health, much like our life, is a journey so let's try and take charge of that journey one day at a time.