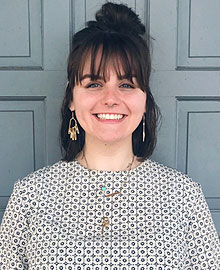 Emily is the office manager for Jacksonville Acupuncture Clinic, handling phone calls, emails and insurance inquiries for our providers and patients. She was born and raised here in Jacksonville and after high school she pursued her Bachelor's degree in Biology and Health Sciences at the University of Central Florida in Orlando. After a few years of study there, she was drawn to the field of Nutrition and Dietetics and transferred back to Jacksonville to the University of North Florida. Following her Bachelor's degree, Emily plans to continue her education with her Master's in Clinical Nutrition and Dietetics to later become a Registered Dietician Nutritionist.
Emily became interested in the field of nutrition when she began focusing on her diet and exercise to help manage many symptoms of chronic illness. She is passionate about using healthy foods to improve overall health and wellness and using it as an opportunity to listen to what the body needs. Her journey with acupuncture began during college and she still regularly uses acupuncture treatments to regain balance in her life.
In her spare time, Emily enjoys personal fitness, cooking, and spending time with her family. She plans to get her Certification in Personal Training soon, as she really enjoys motivating others to eat well and stay active.