"If You're Experiencing Pain or Stiffness From an Injury, You May Need the Help of a Licensed Massage Therapist…"
"How to Find a Massage Therapist That's RIGHT for

YOU

."
From migraines and back pain to dealing with sports injuries, the right licensed massage therapist can make all the difference in the world.
If you're suffering from the pain and stiffness from an injury, know that massage not only provides pain relief, but also helps in healing.
"When our bodies experience an injury, the body's natural system of defense is to protect the injured area. It does this by preventing the muscles around it from moving. Think of it as a splint maintaining the area immobilized."
This is the reason you experience the muscles getting stiff. A massage therapist can work on these muscles and loosen them up. Choosing a Jacksonville massage therapist experienced in deep tissue massage and NMT can be help you feel better and restore function.
There are many styles of massage available at Jacksonville Acupuncture Clinic including Relaxation, Deep Tissue Massage, Neuromuscular, Sports Massage, and Prenatal Massage, so choosing the right modality and massage therapist is the most important question you ought to consider first.
"The 3 Things You Should Know About
Your Massage Therapist…"

1. Is the therapist certified or licensed in the state of Florida?
Most states in the US require that practicing massage therapist be licensed. This is very important because it ensures that the therapist has professional training so they can properly treat your condition.
Florida therapists use LMT (Licensed Massage Therapist) behind their name, while in other states, you may see CMT (Certified Massage Therapist). You should also look for a license or certificate in their office.
2. Does the massage therapist carry professional malpractice insurance?
Massage therapists who have your best interest in mind will carry malpractice insurance. This is not something that is an option, rather a requirement if they are a professional therapist.
3. Does your massage therapist keep session (SOAP) notes?
While this is not a state requirement, this will allow the massage therapist to get familiar with your condition – especially with infrequent visits. The advantage of session notes is they can quickly review your chart and see the areas of your body they treated on your last session. They are also important for insurance claims.
"The Top 5 Questions to Ask When Choosing
a Massage Therapist…"

Never shy away from asking the key questions, because this is how you find the massage therapist that's right for you. If you find that you don't get straight answers to your questions simply move on to the next one.
You must feel comfortable with the therapist you are interviewing because you are putting them in trust of your body.
Are they qualified to perform a variety of techniques or modalities and what is their massage style specialty?
What kind of experience do they have?
Have they treated others with your same condition?
Where is their office located and what are the hours? The closer to home or work the better which means less stress.
What are their rates? – Do they offer specials or have discounts for first-time massage?
Thank You For Visiting Our Massage Therapy Web Page
We want to thank you for visiting our massage web page, and in return we'd like to offer you a coupon for an additional FREE 15 minutes when you book your first 50 minute massage at Jacksonville Acupuncture Clinic (a $20 value.) Please limit one coupon per person.
Please click on the coupon to print it out and bring it with you on your first visit.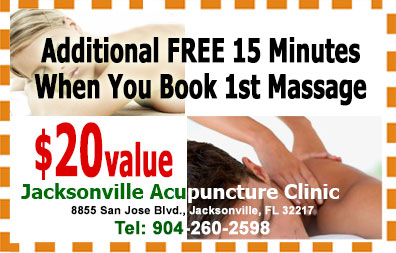 If you have any questions, please send us an e-mail or call us at (904) 260-2598 . We'll be happy to answer your questions and discuss your concerns.
PS– It's fast and easy to share this website with a friend, just click here.
"The doctor of the future will give no medicine, but will interest his patients in the care of the human frame and in diet and in the cause and prevention of disease."
— Thomas Edison.
– Licensed Massage Therapy Jacksonville , FL .